We're 'Female Friendly' – but we always apply this type of approach to each and ever customer.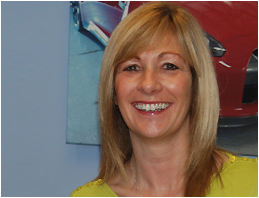 Hello, I'm Karen Perrin and I'd like to tell you about one of the ways Car Services demonstrates how every customer and every vehicle is important to us.
I know of many women and older motorists who dread or simply avoid taking their cars to a garage because of an unpleasant experience in the past. This situation is bad for the trade and potentially dangerous too.
Car Services has always had what is known as a 'female-friendly' policy (even before it became fashionable) and it doesn't just apply to Lady motorists. Motorists of all persuasions have come to me because they are fed up with professional arrogance, not being taken seriously, or suspect they've been overcharged.
Car Services is not like that. As a Director, I've made it a personal goal and everyone here has worked very hard to maintain a reputation for treating all of our customers with equal respect and professionalism.
We always remember who's driving
We listen to your concerns and make sure we understand any problems you are experiencing with your vehicle.
We will tell you what we can do to sort the problem out and why, how much it will cost, how long it will take and when it will be ready. And we'll do this in plain English.
We will give you a full quote for the job and will only start work once you have given us the go-ahead.
Then we'll do what we've agreed!
Book Your Car in Now!
Want to book your vehicle in for a Service, Repair, or MOT? Fill in this form and we will call you back within 24 working hours.
Accreditations
We take our affiliation seriously, adhering to their strict quality guidelines to guarantee we maintain the highest standards. We are required by these trade organisations to promise and prove that we are following their core codes of practice, guaranteeing you the best possible service and customer care.


"Unbeatable Vehicle Servicing, Excellent Customer Care!"