Car Services technical team, led by Jeff Perrin, has vast experience of servicing and repairs on all vehicle models, manufacturers and ages – from performance cars to light commercial vehicles, we take on anything of any age, including servicing 'under warranty'.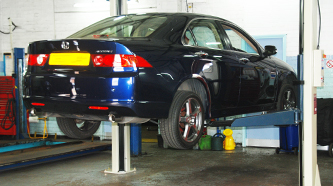 As a private motorist, buying and running a vehicle is expensive. Maintaining a full service history goes a long way towards protecting this investment and realising a good resale value when it's time for a change.
Running a fleet of business vehicles is a major capital investment in itself and when time is money, reliability problems can cost you dear. Having fleet vehicles serviced regularly ensures that you get the maximum return from a vital business tool and from the staff who rely on them.
Book Your Car in Now!
Want to book your vehicle in for a Service, Repair, or MOT? Fill in this form and we will call you back within 24 working hours.

Accreditations
We take our affiliation seriously, adhering to their strict quality guidelines to guarantee we maintain the highest standards. We are required by these trade organisations to promise and prove that we are following their core codes of practice, guaranteeing you the best possible service and customer care.


"Unbeatable Vehicle Servicing, Excellent Customer Care!"