Air conditioning is rapidly becoming standard equipment in modern cars and plays a valuable role in maintaining driver and passenger comfort and safety. Air conditioning systems should be serviced every two years to keep them clean and working to maximum effectiveness.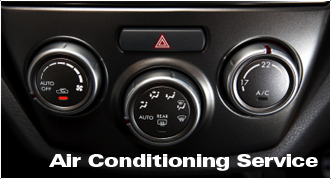 During the course of a year, an air conditioning system can naturally lose between 10% and 15% of its coolant gas, which can lead to poor cooling, corrosion, failure of the compressor and odour problems.
If you're noticing poor cooling, especially in hot weather, bad smells, windows steaming up and generally feel uncomfortable in the car, the air conditioning should definitely be checked.
Fresh air performance check – free!
We are always happy to check your system with a visual inspection. We check the refrigerated air temperature and check the compressor and compressor clutch for performance.
Fresh air check with antibacterial cleansing
We will conduct the performance checks as described above and introduce an antibacterial disinfecting agent through the system.
Full air conditioning service
We undertake the basic performance test described above and take them to a more comprehensive level, checking the pressures in the system and removing air, moisture and refrigerant. We then recharge the system with lubricants and coolant to their prescribed levels.
Full air conditioning service with anti bacterial cleansing
The ultimate service and refresh for your air conditioning system.
Book Your Car in Now!
Want to book your vehicle in for a Service, Repair, or MOT? Fill in this form and we will call you back within 24 working hours.

Accreditations
We take our affiliation seriously, adhering to their strict quality guidelines to guarantee we maintain the highest standards. We are required by these trade organisations to promise and prove that we are following their core codes of practice, guaranteeing you the best possible service and customer care.


"Unbeatable Vehicle Servicing, Excellent Customer Care!"